Label printing software Edition <Lite>
Test eXtra4<winIII> as full version
The label printing software Etikettendruck-Software eXtra4<winIII> in Edition "Lite" functions as a fully functional basic version. It allows to use the program core function, the label printing comfortably, - free of charge and without time limit. As a user, you are thus able to connect a printer, have up to 4 label layouts ready as entry masks, enter data into the layout of your selected label and print out any number of labels.

In the first days after installation eXtra4<winIII> Edition "Lite" provides additional functions of the program for testing. The release as test version is limited to 60 days.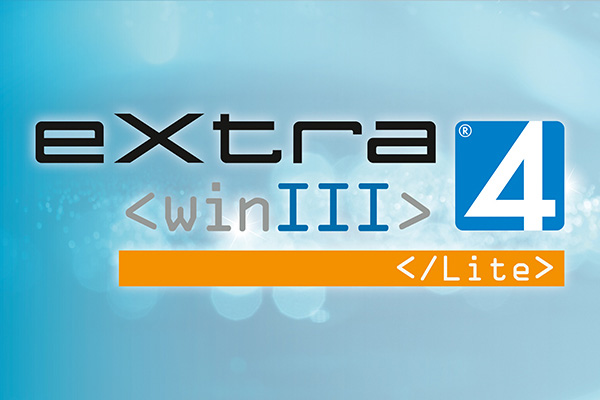 You will find an overview of all features that provide ease of use for label printing and are equally included in all
program editions of eXtra4<winIII>
under
Basic Function
.
1

4

∞

0
0,00
Printers
connectable
Label -
layouts

Label
circulation

Support




units

Price
in €
---
eXtra4<winIII> Edition "Ultra Lite" compatible to Microsoft und Apple
The
label printing program eXtra4<winIII>
can be used as edition "Ultra Lite" platform independent. It can be used for computers with the Windows operating system as well as for computers with OSX and Linux. We accompany Apple users through the first steps. Please contact our
This email address is being protected from spambots. You need JavaScript enabled to view it.

This email address is being protected from spambots. You need JavaScript enabled to view it.


System requirements for label printing with eXtra4
---
Download und Installation
To download eXtra4<winIII> Edition "Lite", the basic version of the label printing software, we need the address data of the future user. You will receive the download link and your personal license number for the program by e-mail. A double click on the download link in the mail downloads the software into the download area of the computer. A double click on the program file triggers the installation on the computer.


Activation and trial volume
After download and installation the software must be activated as Edition "Lite". This is done under the personal license number of the registered user via the help function of the program. Only then will Edition "Lite" be available in its full scope. Until the activation the program runs only in its lowest version, the edition "Ultra Lite".
If a user is interested in the program features of further developed software versions, higher editions of the label printing software eXtra4<winIII> can also be activated later or activated as a trial for 60 days.


Support and service times
As a free trial versiont
eXtra4<winIII> Edition "Lite"
does not include any inclusive support services. If you need support, we will be happy to help you. Please contact us at +49 7231 94790 or
by mail


Mail with download link, entry as registered user, shipping of license number and activation are not automatic, but immediately within our office hours (Mon - Thu 8.00-16.30, Fri 8.00-12.00). during this times we also support you.
---
Edition <Lite> as developer tool
Use eXtra4<winIII> as software component
Use eXtra4<winIII> Edition "Lite" as software component
In the hands of software specialists, eXtra4 Edition "Lite" can also become an efficient tool for implementing label printing in third-party programs. Already installed applications for merchandise management and ERP, e.g. Sage KHK, Selectline, Office+ or SAP Business One and many more, can be extended by the IT experts on site with the user-friendly printing of labels. Software houses can also use eXtra4<winIII> Edition "Lite" as an OEM component and add the label printing function to their products without the need for programming.
The integration of
eXtra4<winIII> Edition "Lite"
as a program module for
label printing
always requires individual consultation. If you are interested in easy access to label printing for your local application or your own software product, please contact our s
This email address is being protected from spambots. You need JavaScript enabled to view it.
.