Label printing software Edition <Basic>
Print labels and save data with eXtra4<winIII>
As the first paid version of the eXtra4<winIII> software, Edition "Basic" offers more convenience in label printing and beyond that, data management. The integrated database is available locally at the workstation of the software installation. It generates labels according to specifications and makes them available for printing.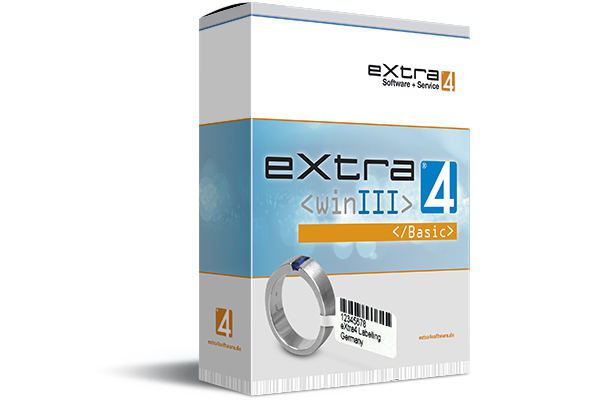 Comfort plus in label printing
Label printing has been extended to the use of 2 label printers and allows a maximum of 10 label layouts to be accessed simultaneously with data input. As a user, you are thus able to connect two printers in parallel with the label printing software eXtra4<winIII> in order to have two different label types permanently ready for printing or to print labels at two locations.
Without changing the label roll in the device, for example, address labels can be output for dispatch and jewellery labels can be created in parallel for marking goods or labels can be printed on two floors.
This saves time, effort and costs.

2

10

∞

10
149,-
Printers
connectable
Label
layouts

Label
circulation

Support




units

Price
in €
---
Overview Software Features
Functions of the Edition <Basic>
Label Printing
Simple Administration - items/addresses
end faq
---
eXtra4<winIII> Edition "Basic" compatible to Microsoft und Apple
The
label printing program eXtra4<winIII>
can be used as edition "Basic"
platform independent
. It can be used for computers with the
Windows
operating system as well as for computers with
OSX
and
Linux
. We accompany
Apple
users through the first steps.
Please contact our
Support-Team.
System requirements for label printing with eXtra4


Our labelling systems in the field of software and associated services are supported by our subsidiary eXtra4 Software+Service GmbH.





---
Download and activation
For the use of eXtra4<winIII> Edition "Basic" a registration and the purchase of a license is required. After download and installation the software must be activated as Edition "Basic". This is done under the personal license number of the registered user via the help function of the software. Only then will the "Basic" edition be available in its full scope for an unlimited period of time. Until activation, the label printing software eXtra4<winIII> runs only in its lowest version, the Edition "Ultra Lite".
If a user is interested in the program features of further developed software versions, higher editions can also be activated retrospectively or previously activated as a trial for 60 days.

Support and service times
The
purchase
of eXtra4<winIII> Edition "Basic"
includes 10 units support (10 x 6 min)
. Support is generally provided by
telephone and online
(remote). If you need support, we will be happy to help you.
Please contact us under +49 7231 94790 or
by Mail.


Mail with download link, entry as registered user, shipping of license number and activation are not done automatically, but immediately within our
office hours (Mon - Thu 8.00-16.30, Fri 8.00-12.00)
.
In this time window we also help you with support.
---